Downloading & Installing latest/ Genuine Windows 10 Creator's update for free on any PC
Yes, you can use Original & latest windows 10 for free without much limitations,  No Cracks, No Viruses, Download is from official Microsoft Site.
It is recommended to do a clean install with this ISO, Below are the steps:
1 – Download the latest ISO from below link: It is authentic link & the download happens direct from microsoft site so you can be assured that no virus/cracked version is being used:
http://windowsiso.net/windows-10-iso/windows-10-creators-update-1703-download-build-15063/windows-10-creators-update-1703-iso-download-standard/
2 – So now you have the ISO, you can just burn it directly to a DVD or create a bootable USB with Microsoft Windows USB/DVD Download Tool(Link below)
Alternative: You can use some other tool as well to create a bootable USB disk – http://filehippo.com/download_universal-usb-installer/
3 – Once Bootable USB Created, Just plug it in your PC, & boot to USB, During installation just click on skip button when it asks for key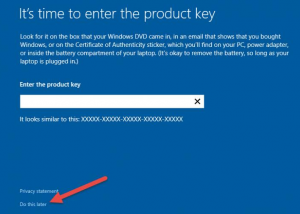 4 – You are good to go with Windows 10 now, let it update for any security updates etc, configure windows defender for de-facto virus protection
5 – Restrictions in this version:
Watermark in lower right corner:

You will not be able to change wallpaper or any other customization like taskbar etc, though u can click on a picture and change the wallpaper from right click menu. also the wallpaper will stay forever, no nagging or black wallpaper like XP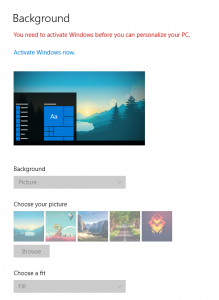 Change wallpaper manually like below: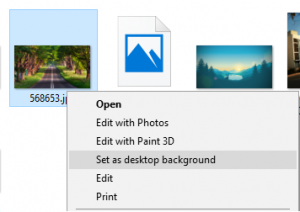 PS: i have been using it for couple of months in this mode without any issues getting all updates and virus definitions, In future maybe Microsoft can introduce some more restrictions to force users to activate their windows, at that time you can upgrade this version with OEM Keys from sites like : https://www.digitalcodes.in/buy/windows-10-home-32-64-bit/
And please don't download cracked copies, you are making your computer insecure with malicious code, better go with Linux alternatives, & free Open source software, there is alternatives available for all sorts of windows software, you can check corresponding FOSS Products on below link:
http://alternativeto.net/software/microsoft-office-suite/
Let us know in comments if you have any queries with above procedure. Thanks.